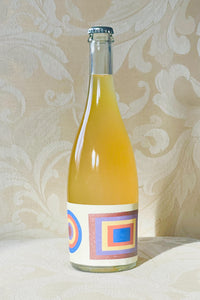 Willow
We don't always wait years to release a wine, but with Willow, i'm glad we did. This blend is a reach across time; from fruit harvested in 2020, 2021, and 2022. We had no idea how special it would become.
Willow is a mind-trip. Made from skin contact Seyval Blanc, Muscat Ottonel aged for years in a barrel lined with beeswax, and the juice of Golden Spice pears, organically grown and added at bottling for natural bubbles.
It's a lightly sparkling pét nat (Vinho Verde or Txakoli levels of bubble) so we wrote 'perlant natural' on the label. It's glittery, not fully sparkling.
What's it like? Willow drinks somewhere in between Vinho Verde, Limoncello and citrus blossoms. The vibe is fresh and floral, like a citrus orchard planted by a Basque meadow, full of bees sipping from wildflowers between the trees.
Willow has an undercurrent of honey dipped magnolia flowers in both flavour and aroma. The beeswax lends perceptual sweetness, without actual sugar (it's completely dry).
The soft bubbles elevate a unique floral mix: like bergamot and apple blossoms crushed on an orchard floor.
It's an incredible blend, and if we could go back in time we would make so much more of it. 
Serve chilled.
11% ABV | 750mL
Ingredients: Seyval Blanc, Muscat Ottonel, Organic Golden Spice Pears. Gluten free.
Wild ferment. Zero residual sugar. Not vegan (because of the beeswax barrel).
---