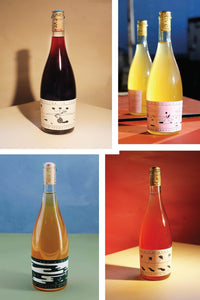 The Vermouth Pack
One for the cocktail lovers: this pack includes 4 different 750mL bottles of vermouth.
After opening, keep each of these bottles refrigerated and consume within 30 days, just like you would any vermouth.
You'll get 1 bottle each of:
No Stone Unturned: 

A semi-sweet, white vermouth m

ade from carbonic quince, Gewürztraminer, pears, apples, plums, marigold, lemon balm, burdock root and dandelion leaves. It has big guava and lychee aromas, and tastes like lemon peel and sweet white flowers

. It's lives in the same world as the French aperitif Lillet Blanc, but way fruitier and half as sweet.

Floral and tropical, use it in a white negroni or a gin martini with a splash of St Germaine. It's also perfect on it's own, neat but chilled well. 18% ABV, 750mL


Smoke and Mirrors:

A dry, orange vermouth made from smoked 

apples, plums, Zweigelt, sassafras, cinnamon basil and citrus gem marigold. It tastes like something between Scotch and Drambuie, but lighter.

The aroma is light smoke and citrus, with sassafras tannins and something like bergamot nectar in the flavour (from the Citrus Gem Marigold). 

It's perfect in a Boulevardier, or mixed with Aperol and something sparkling. 17% ABV, 750mL


Whistling in the Dark: A semi-sweet, red vermouth made from apples, cherries, blueberries, De Chaunac and Gewürztraminer. We added anise hyssop, yarrow, wormwood and sweetgrass for bitterness and aroma.

It's an earthy botanical treat made for sipping over a big ice cube, or mixing in a negroni. 16.4% ABV | 200mL


Pleased to Meet You: A bittersweet, rosé vermouth m

ade from Muscat, cherries, Sauvignon Blanc and Zweigelt + chamomile, wormwood, ocean rose, and tarragon. It has big chamomile and citrus aroma, and tastes like grapefruit rind garnished with sweet flowers

.



Bittersweet and balanced, it's the perfect vermouth for a Sbagliato, negroni or poured straight over a big ice cube. 16.8% ABV, 750mL

Each bottle is 750mL, gluten free and vegan.